Mopar Brake Specials in Olathe, KS
$169 Front Brake Pads including resurface rotors, etc*
*Price does not include tax.
Brakes are one of the most important safety features of your vehicle so regular brake maintenance is an important aspect of keeping your vehicle safe. At Olathe Dodge Chrysler Jeep you can trust our expert technicians for brake maintenance, repair and diagnosis. At our Olathe, KS Service Center our expert technicians are available to assist you with whatever brake service you may need including:
-Replace brake pads and shoes
-Brake Fluid Service
-Brake Hardware-Inspection of hydraulics,
 fluid and hardware 
We offer regular specials and competitive prices on brake services and repair in the Kansas City area.
Questions? Fill out the form to right to contact us or call us at (888) 797-1028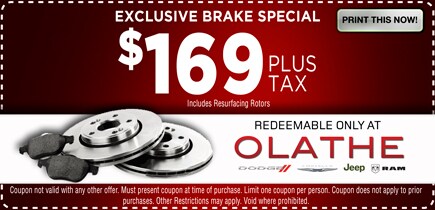 $17.95 Oil, Lube and Oil Filter Change*
*Price does not include tax. 
Your vehicle relies on oil, lubrication and an oil filter to keep it running smoothly. Motor oil minimizes friction by lubricating, cleaning and cooling critical internal engine components. Normal driving will cause motor oil to become contaminated with wear metals, water and even fuel. Every three months or 3,000 miles, your vehicle should be ready for an oil change. Check your owner's manual for the specific recommendations for your vehicle. Oil changes at Olathe Dodge Chrysler Jeep Ram include:
Removal and replacement of existing engine oil and oil filter
Checking the air filter
Checking and topping off all fluids under the hood
Lubricating all fittings
Checking engine for leaks
Checking belts and hoses
Checking tire pressure
Checking entire undercarriage
$119.95 Battery Special*
*Price does not include tax.
RIGHT CAR BATTERY.
RIGHT PRICE.
Knowledge is power when it comes to your car battery and electrical system. The more you know about it, the less likely you are to get stuck. Your car's electrical system consists of the battery, starter and alternator. The battery provides juice to the starter. Then, the alternator gives that battery the energy it needs to keep powering your car.
If one of these parts isn't working right, your car won't start or run well. Our expert technicians can perform a complete check, and they'll help you understand just what's going on with your vehicle's battery and electrical system.
If it's time, they'll take steps so your car runs better and stronger. After all, we're the connection between care and the value of your car. Only available nights or weekends? No worries, since most stores keep hours that are convenient for you.